Usui Reiki Level II Attunement Workshop
October 11, 2015 @ 11:00 am

-

5:00 pm

$222
Usui Reiki Level II Attunement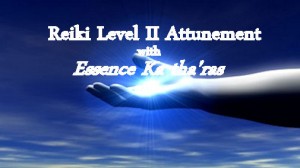 This is a daylong workshop to be Attuned to Usui Reiki Level II.
To qualify you must have received your Usui Reiki Level I Attunement previously, either by me, or if by someone else, you must present your Certificate of Attunement as proof.
Please wear comfortable clothing, and bring a light covering.  Bottled water infused with Reiki energy will be provided, as well as light snacks of fresh fruits and vegetables at this workshop.
It is suggested you eat light before this Attunement and drink plenty of water, and that you spend the remainder of the day of the Attunement as quietly as possible.
This Attunement Workshop will be held in the Community Room of the Huntington Park Apts. located in the Office Building behind the swimming pool.
The cost of this Attunement is $222 and includes an Usui Reiki Handbook and Certificate of Attunement.
This workshop is limited to 5 attendees, so please make your payment as soon as possible.
I CANNOT GUARANTEE YOUR PLACE IN THIS WORKSHOP UNTIL YOUR PAYMENT IS COMPLETED.
For more information about this Attunement Workshop please contact me. You may e-mail me at: essencek@shambahallanewearth.com or telephone or text me at 409-382-3073.
You may also find me on FaceBook and Private Message me there if you like. Find me at…. 
Essence Ka tha'ras ~ Spiritual Growth Guide & Awakening Facilitator
Payment