Consciously Creating Reality & The Maharishi Effect
Author: Essence Ka tha'ras
Before we begin please allow me to introduce myself and share an invitation to any of you who may be interested in joining in this work a way of doing so.
I AM Essence Ka tha'ras. I AM a Spiritual Growth Guide & Awakening Facilitator. I am also the founder, and one of the administrators of a Facebook group known as "First Wave Blue Ray Indigos & Indigos Home".
The information you are about to read in this article was written as part of my Sacred Contractual Work in leading, in some small way, this "Vibe Tribe Family" (as we call ourselves), in being a part of the healing, spiritual awakening and consciousness expansion process the Collective Consciousness of Humanity is currently experiencing.
If you would like to participate in the Sacred Work as shared in this article one way you may do so is by joining the Facebook Group created specifically for this work. You can find it at this link…
 You are also welcome to join our Facebook Group: First Wave Blue Ray Indigos & Indigos Home; where you are always Welcome and where the door is Always Open and Unlocked.
Blessings from All Realms of Creation
****************
Consciously Creating Reality & The Maharishi Effect
"We Create Our Reality; Individually & Collectively"
How often do we hear this statement these days? Just exactly what does it mean? And how do we go about doing it?
The truth is "Creating Our Reality" is a process that is both simple and complex all at the same time.
Let's start with the simple part.
In my experience one of the necessary first steps in learning to Consciously create our reality, (and 'Consciously' is the keyword here), is to change the perspective lens we view our reality through. It sounds simple, and once we have mastered the art of perspective it is. Yet, as simple as it sounds it can be a complex process to consciously change our perspective because we each have so much family and societal conditioning we must recognize and release in order to do so.
The answer most often given to the question of, "How do I learn to change my perspective and begin to consciously create my reality?" seems like an over simplified and over used cliché, but nonetheless, it is a simple truth and, the answer is… Meditation.
If you are serious about consciously creating and maintaining a reality to exist within that is positive and peaceful, there is no better place to start than with implementing a daily meditation routine into your life. Once you do you will almost immediately notice positive changes begin to occur within your life; and your life is your individual reality.
The best part is, by making positive changes in your life and reality you actually assist in making positive changes to the collective reality we all share. But… we can do more and make even larger positive changes to our reality, our individual reality and our collective reality.
So, what is the Maharishi Effect and what does Consciously Creating Our Reality have to do with it?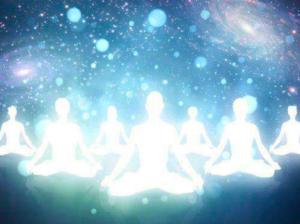 Very basically stated, the Maharishi Effect is the effect Group Meditation has on Consciously creating our Collective Reality. That's right! Turns out that when we intentionally work together we are capable of Consciously affecting the Collective Reality we all share and exist within in very significant and long-lasting ways. How amazing is that?!
The Maharishi Effect technique is one of many Sacred Technological Tools we have at our disposal to use as a first step in Consciously Creating and affecting Our Collective Reality in a positive way. And the best part is, it assists in making the changes we desire to both our individual reality and our collective reality in order to create and maintain a positive reality for our self and for the world as a whole. It's a win-win!
Following is an excerpt from an article about  research done starting in the 1970's on the Maharishi Effect from the website globalgoodnews.com. You can read the article in its entirety at the link provided. I am not sharing information about the advanced meditation technique known as "Yogic Flying" for this particular group work. If you are interested in learning more about this advanced meditation technique you can find it at the link shared.
Excerpt
"The Maharishi Effect establishes the principle that individual consciousness affects collective consciousness.
Research shows that the influence of coherence created by the Maharishi Effect can be measured on both national and international level. Increased coherence within the nation expresses itself in improved national harmony and well-being. In addition, this internal coherence and harmony generates an influence that extends beyond the nation's borders, expressing itself in improved international relations and reduced international conflict.
Research has shown that groups of individuals practicing Yogic Flying-all enjoying very high brainwave coherence-create coherence in collective consciousness, and generate a unifying and integrating effect in the life of society. This results in a decrease of negative trends throughout society-such as crime, accidents, and sickness – and an increase in positive social, economic, and political trends. Scientific studies on this phenomenon have demonstrated that a group of at least 7,000 individuals practicing Yogic Flying can produce this coherence-creating effect on a global scale, reducing violent and negative trends worldwide.
Research studies have repeatedly confirmed the Maharishi Effect on a global scale. For example, during assemblies of ten days to three weeks in which the number of individuals practicing the TM-Sidhi Programme of Yogic Flying approached or exceeded the square root of one percent of the world's population-about 7,000 people-global social trends improved immediately, including improved international relations as measured by reduced international conflict and reduced incidence of terrorism.
The secret of the Global Maharishi Effect is the phenomenon known to Physics as the 'Field Effect', the effect of coherence and positivity produced from the field of infinite correlation-the self-referral field of least excitation of consciousness-the field of Transcendental Consciousness, which is basic to creation and permeates all life everywhere."
maharishi-programmes.globalgoodnews.com/maharishi-effect
*********
The Commitment
According to the guidelines of the Maharishi Effect it takes the square root of 1% of any given population coming together in routine daily meditation (twice a day) in order to affect positive change on the population, and even beyond.
As examples of the number of people needed to meditate together to create positive change I share the following information.
The current world population (as of Dec. 22, 2016,) is Continue reading →