Join Flowing with Spirit Co-hosts, Essence Ka tha'ras and Kyra Meerna, along with program producer, Katsura Balanza, as they welcome author, healer and crystalline kingdom expert Adrienne Goff as their special guest on this month's Blog Talk Radio program.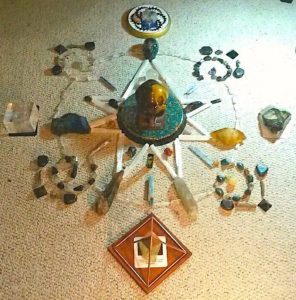 This program airs Monday, June 13th, at 7:30pm Pacific Time/9:30pm Central Time. Call in at 516-387-1874 to ask questions or to share comments.
Adrienne Goff is an author, healer, and teacher with a specialty in the healing crystalline kingdom. Adrienne's books, Crystal Healing for the Whole Being and Becoming Crystal Clear, are required reading for anyone who is an aspiring crystal healer. You can find her informative crystal healing articles featured on major metaphysical websites such as in5d.com, lovehaswon.org, and theeventchronicle.com. Her instructional crystal videos have reached over 55,000 people on YouTube.
Adrienne has been interviewed on the popular radio shows, Healing Conversations by Lauren Galey and The Cosmic Awakening Show by Michelle Walling. She is a featured speaker and healer at the Earth- Keeper conferences hosted by James Tyberonn, the prolific author, geologist, and Metatron channel (www.earth-keeper.com).
These transformative events gather together light-workers from all stretches of the globe to align with personal and planetary ascension. Through her courses, Adrienne has taught hundreds of people how to connect with crystals and gems to affect healing, self-discovery, and spiritual advancement.
For more information about her workshops, healing sessions, and other offerings, please visit her website: www.adriennegoff.com
Connect with Essence Ka tha'ras – FB: Essence Ka tha'ras – Teacher
You may use the link here to listen to this program.