Spiritual Ego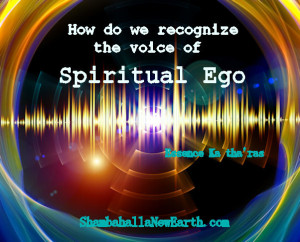 Spiritual Ego… we hear that term a lot these days within the New Age Spiritual Community; but just exactly what is meant by that term? How do we learn to recognize Spiritual Ego within our self and within other? How do we know if we are hearing the voice of Spiritual Ego or the voice of the Divine ONE we call Spirit?
For many who are awakening to an expanded perspective of our world and reality, learning how to discern the voice of Spiritual Ego can be like climbing a slippery slope.
First I think we must remind our self that as special and unique as we all are, and as important as our individual part in the creation of our collective reality is, we must constantly remember WE ARE ALL ONE, and as such, no one of us is any more special than any other.
Many years ago my Spiritual Guides sent me a message in the form of a poem to help me try and always remember this fact. It has helped me when I needed clarification in knowing if I was hearing, (or speaking through) the voice of Spirit or the voice of Spiritual Ego. To me, there is a certain cadence to it that makes it very simple to relate to. I would like to share it with you in hopes it may assist you as well.  
*******************
The Mission
Don't see yourself too special
Don't feel yourself sublime
You're only one of several million
Chosen at this time
***
Your choice was made in full awareness
This alignment to uphold
As the Maya who came before you
This story to help unfold
***
Remembering is your mission
For eons this has been truth
Creation is progressing
Expansion of the group
Essence
© 1999 Essence Ka tha'ras
********************
So, how do we know if we are hearing the voice of Spiritual Ego or the voice of the Divine ONE we call Spirit?
Spirit's voice is as a whisper. It is as a gently flowing stream in a quiet forest. Spirit feels no need to defend anything, for Spirit knows there is nothing to defend.
Spirit asks you to study and learn; to search in earnest in order to find your truth. Spirit says, "Seek, and you will find your truth and your path."
Spiritual Ego tells you, "Listen to me. I can show you the correct path; there is no need to question what I have shown you or seek outside of this knowledge."
Spirit speaks from a place of respect and honor for all while Spiritual Ego speaks in an overly authoritative voice.  
Spirit's Voice clears the mind and clarity of thought comes easily; Spiritual Ego's voice clouds thoughts.
Spirit Asks of you, Spiritual Ego Tells you
Spiritual Ego looks to speak over others so as to be the only voice heard. It is not content to share space with another.
When we are speaking with the voice of Spiritual Ego there is much inner talk and chatter in our own minds. Loud talk and chatter are tools Spiritual Ego uses to confuse.
Spiritual Ego will stanchly defend its ideas and beliefs, and there are many ways those speaking with Spiritual Ego's voice do this.  
Those who speak with a loud and boisterous energy voice are usually speaking through the voice of Spiritual Ego and often have a hidden agenda. This does not mean they are necessarily intentionally trying to mislead others or do them harm. More often than not, they truly believe the information they are sharing is what is needed for further Spiritual Awakening for everyone. They are simple speaking from the place of Spiritual Ego.
These types of people usually don't have much room in their reality for anything that does not fall in line with their beliefs and are very seldom open to other's perspectives. You often find they do not have patience with those who do not agree with them or with those who try to share information not in agreement with what they are saying. If another's perspective in any way makes them feel less than important, either to themselves or in the eyes of others, they will not be open to hearing it or place any value on it.
How do we learn to recognize Spiritual Ego within our self and within other?
When I hear the Voice of Spirit there is nothing that upsets my energy in any way, whether I currently hold a particular belief being talked about by another or not.
When information is shared through the Voice of Spirit it makes me want to hear more because I recognize hearing other perspectives is an opportunity for me to learn and grow. What I hear may not change the current beliefs I hold, but who knows, somewhere later it may be information that, when pieced together with different knowledge, may expand my own consciousness and the perspectives of my reality; taking me to a whole new level of Spiritual Awakening.
Over the years I have learned that a very specific energy manifests within my energy field and body when I hear the voice of Spiritual Ego.
Just as we can "feel" the energy of fear or separation within information shared by another in the name of "Spiritual ONEness", so too can we "feel" the energy of Spiritual Ego when we hear it. We just have to learn to recognize what that specific energy feels like within us when it appears.
For me the energy of "Fear" has a constricting feel to it. It makes me want to pull within behind the safety of my inner walls of comfort and shut out everything else. The energy of fear goes straight to my Solar Plexus and then moves into my Sacral and Root Chakras, activating my "Fight or Flight" instincts. For me, "Fear Energy" attacks my three lower Chakras. There is not much communication with words or thought when the energy of "Fear" comes into my energy field.  
Spiritual Ego on the other hand makes me nervous and I feel a tightening in my Heart and Throat Chakras, my inner vision becomes cloudy and I feel a pressure pushing down on my Crown Chakra. My neck and shoulders tighten and my blood pressure actually rises when I hear the voice of Spiritual Ego, especially when it is a strong energy. My body tingles all over with a chaotic, spike like electrical charge.  
Remember Spiritual Ego can be tricky. If you are not sure if another is speaking through the voice of Spirit, and it is indeed Spiritual Ego talking through them, Spiritual Ego's voice will try and make you think you are being judgmental. You hear, "It's not them. It's you!"
Another way Spiritual Ego can be tricky is in prodding us to misread the energy signals in our energy field, especially those that affect our physical body strongly. Remember that chaotic electrical charge tingle I spoke of? Energy such as this can often be interpreted as excitement instead of a warning signal, especially by those who are newly awakened and just learning how to decipher energy signals. I know it took me a few years to figure that one out! And because of that, in my early days of awakening I often fell for that line from Spiritual Ego telling me it was me being judgmental. So learn to be very aware of how energy affects you personally.
And while it is important we check this within our self; when you have gone within and used all the tools and techniques at your disposal, such as breathing and trying to rebalance your energy, focused on realigning your Chakras, (or if you're like me, tried to release the tight feeling within my Heart and Throat Chakras, and tried to clear my inner vision), and you still have that nagging feeling it is Spiritual Ego's voice you are hearing, it probably is!
Blessings from All Realms of Creation
Spiritual Growth Guide & Awakening Facilitator
© 2016  Essence Ka tha'ras
Shambahalla-New Earth & The Metatronic Consciousness Energy Round
 Please feel free to share this information, but only in its entirety, and with credit to the
Author – Essence Ka tha'ras
and please add a link back to this web-site….www.shambahallanewearth.com